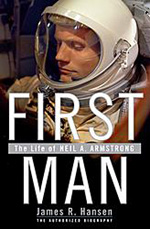 First Man: the Life of Neil Armstrong. By James R. Hansen SIMON & SCHUSTER, July 2006 Paperback WINNER 2005 Eugene M. Emme Astronautical Literature Award
On 20 July 1969, the world stood still to watch 38-year-old astronaut Neil Armstrong become the first person ever to walk on the Moon. Perhaps no words in recent human history became better known than those few he uttered at that historic moment. Upon his return to Earth, Armstrong was honoured and celebrated for his achievement. But he was also misunderstood.
As authorised biographer James Hansen reveals in this fascinating and important book, it was the act of flying that had driven Armstrong rather than the pull of the destination, from his distinguished career as a fighter pilot in the Korean War right through to his most famous mission. Drawing on flight logs, family and NASA archives and over 125 original interviews with key participants, First Man vividly re-creates Armstrong's life and career in flying, from the heights of honour earned as a naval aviator, test pilot and astronaut, to the dear personal price paid by Armstrong and, even more so, by his wife and children, for his dedication to his vocation. It is a unique portrait of a great but reluctant hero. See our Space Books section to order.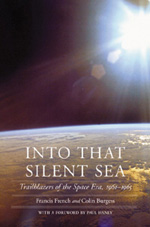 Into that Silent Sea - Trailblazers of the Space Era, 1961-1965. By Francis French and Colin Burgess. NEBRASKA (Hardcover/ Autographed by Colin Burgess) Finalist 2007 Eugene M. Emme Astronautical Literature Award.
It was a time of bold new technology, historic moments, and international jousting on the final frontier. But it was also a time of human drama, of moments less public but no less dramatic in the lives of those who made the golden age of space flight happen. These are the moments and the lives that Into That Silent Sea captures, a book that tells the intimate stories of the men and women, American and Russian, who made the space race their own and gave the era its compelling character.
These pages chronicle a varied and riveting cavalcade of human stories, including a look at Yuri Gagarin's harrowing childhood in war-ravaged Russia and Alan Shepard's firm purchase on the American dream. It also examines the controversial career of cosmonaut Valentina Tereshkova, the first woman in space, and the remarkable struggle and ultimate disappointment of her American counterparts. It tries to uncover the truth behind the allegations that shadowed Gus Grissom and Scott Carpenter and then allows the reader to share the heart-stopping suspense of Alexei Leonov's near-fatal first space walk.
Through dozens of interviews and access to Russian and American official documents and family records, the authors bring to life the experiences that shaped the lives of the first astronauts and cosmonauts and forever changed their world and ours.See our Space Books section to order.